Hey guys! So Project Hellion is the first book I've ever used the pre-order option on KDP for and it's pretty cool seeing it up there like that! I'm interested to see how it goes and if anyone is willing to give this book a chance. It's only for pre-order until Wednesday, which is when it will be out on ebook! It'll be out on paperback soon too.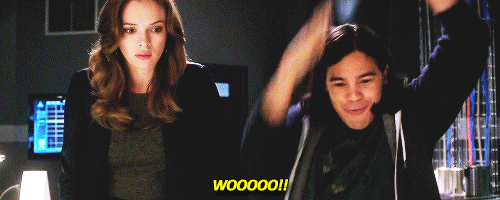 This book has been two years in the making. I wrote the first version for Nanowrimo 2016 and then the second version (which is what is published today) for Nanowrimo 2017. I spent all of 2017 and 2018 on and off revising, editing and polishing it. There were lots of times when I was tempted to give up, when I thought I would never see this book published or ever share it. But those doubts never stopped me from pursuing this story. I was so determined to make this story a reality, to make this book real that I refused to give up. Delphi's journey in this book is something I'm very proud of and I am passionate about. It's the sort of character arc I enjoy in other books and I enjoyed writing it so much! I loved getting to write The End on Delphi's story and though Astoria still calls to me for a story of her own, I'm giving that world of superheroes and villains a break so that when I do come back to write Astoria's story, I have fresh eyes for it. I'm just really proud of myself for sticking to the story. I learned so much about writing and who I am as a writer during the two years I spent on this book. I really hope you all enjoy it as much as I enjoyed writing it! :)
So, on Wednesday, Delphi's story will officially be finished and that makes me so happy to get to say that. And because I am hoping people will buy this book and will read it, I have to do some self-promotion here, Ok?
Weapon Icean, the first book, is on the Kindle for only 1.99! So if you haven't read Delphi's story yet, now is a great time to do that! You can find it
HERE!
Here's a little about it:
After being injected with a serum that gives sixteen year old Delphi icy cold abilities, she is thrown into the world of the Protectors. The team of superheroes that watches over Amparo City and protect the world from enhanced criminals and villains. Soon after she wakes with her strange new powers, her world is flipped upside-down again.
Her parents and older brother are revealed as super-powered villains and a new dark organization rises from the shadows to enact their long awaited plan against the Protectors.
Can she trust the Protectors or the handsome, winged Eros and his sinister telepathic boss, Tremble, who believes the Protectors are prejudice against those who look different from "normal" Supers.
Maybe, for Delphi, fitting in and living up to impossible superhero standards is overrated.
And Project Hellion can be found to pre-order right
HERE!
If you don't pre-order in the next three days, make sure to get it on Wednesday when you can download it straight to your Kindle! Here's a little about Project Hellion:
Delphi is ready to fight back. Two months have passed since Delphi acquired her icy abilities and the Shadows have kidnapped her and revealed her to the world. She's fallen into the rhythm of a semi-normal life of friends, school, and training.
But after a mission where something goes terribly wrong, her cousin and Boy Wonder, leader of the Young Protectors, benches her from the team. Delphi runs away to stop the Shadows on her own, sick of the Protectors holding her back, and allies herself with the one person she never wanted to see again: Tremble. As she digs deeper into the history of the Shadows, dark and surprising secrets are revealed. Project Hellion, a sinister scheme set into motion by the Shadows longer ago than anyone thought, is the final piece of the puzzle and Delphi is the only one who can stop it before it's too late.
In the final chapter of Delphi's story, lines between good and evil are blurred, and Delphi finds herself in a role she never thought she would play. Maybe being a villain wasn't so bad after all.