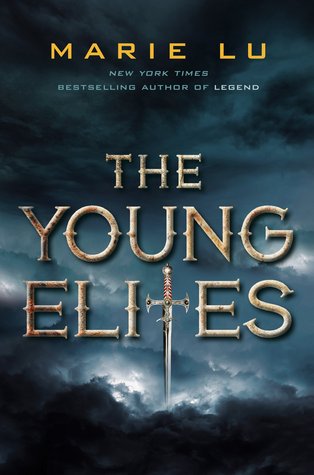 Here's the back cover blurb for The Young Elites:
I am tired of being used, hurt, and cast aside.
Adelina Amouteru is a survivor of the blood fever. A decade ago, the deadly illness swept through her nation. Most of the infected perished, while many of the children who survived were left with strange markings. Adelina's black hair turned silver, her lashes went pale, and now she has only a jagged scar where her left eye once was. Her cruel father believes she is a malfetto, an abomination, ruining their family's good name and standing in the way of their fortune. But some of the fever's survivors are rumored to possess more than just scars—they are believed to have mysterious and powerful gifts, and though their identities remain secret, they have come to be called the Young Elites.

Teren Santoro works for the king. As Leader of the Inquisition Axis, it is his job to seek out the Young Elites, to destroy them before they destroy the nation. He believes the Young Elites to be dangerous and vengeful, but it's Teren who may possess the darkest secret of all.

Enzo Valenciano is a member of the Dagger Society. This secret sect of Young Elites seeks out others like them before the Inquisition Axis can. But when the Daggers find Adelina, they discover someone with powers like they've never seen.

Adelina wants to believe Enzo is on her side, and that Teren is the true enemy. But the lives of these three will collide in unexpected ways, as each fights a very different and personal battle. But of one thing they are all certain: Adelina has abilities that shouldn't belong in this world. A vengeful blackness in her heart. And a desire to destroy all who dare to cross her.
It is my turn to use. My turn to hurt.
So, I know Marie Lu is famous for her Legend trilogy but I actually I have not read those books yet though I did get the first and second from the library days after I finished The Young Elites. All I knew when I saw this book at the beginning of this year on Goodreads was that I had to read it. And when I did I was blown away.
I'm gonna start with the characters. Specifically with the main character who, Adelina Amouteru. First of all I love the names that these characters have. They remind me of Italy kind of. Anyway Marie Lu does a fantastic job at creating this complicated, dark, yet sympathetic main character that is knee deep in trouble.
When Adelina was young her, her mother, and her younger sister all came down with the blood fever. Her mother died and her sister, Violetta, came out unmarked but Adelina did not and that make her father hate her. She grew up with a father who abused and hurt her and nurtured the darkness inside of her while her unique, otherworldly ability stayed shut up inside of her waiting to come out. And when her ability did come out it scared even The Young Elites, a group of other marked young people with abilities too. I have honestly never seen such a deep and dark character before.
Adelina is aligned with fear and hatred which means that she gets her strength from other people's negative emotions. It... disturbed me almost at how dark she was and how much she craved and loved the fear and hatred of others, not to mention how she was power hungry for others to kneel before her. All Adelina wanted was for others to notice her and to fear her.
Then there's Enzo. Enzo is one of my favorite characters in the whole book. He's dark and brooding and so unpredictable. One minute he's mischievous and the next he's extremely frightening. I loved watching Adelina and Enzo's relationship grow and all the twist and turns they had together.
But honestly I think one of the reasons why I like him so much is that he can control fire. That power to be able to control and create fire has always been one of my favorites.
And I also liked how Marie Lu made each of her characters marked in a different and unique way. Enzo has almost blood red hair, Adelina's hair is silver, and my second favorite character, Raphael is gorgeous. I believe that is one of his markings. He came out of the blood fever looking incredible with long silky hair and two different colored eyes. Throughout the whole book you feel this overflowing kindness, beauty, and grace coming off of him. When Marie Lu first described him it made me want to meet him and I loved his relationship with Adelina. It was almost like a brother-sister thing. All the other characters were vivid and unique but those were the three that stood out the most to me.
I came into the book expecting to have Adelina go from dark to light but by the end its very complicated and if anything she gets darker but she also sees things for what they really are.
Teren Santoro was not my favorite character though I do think Marie Lu did a good job at giving him sympathy because he was technically the bad guy. I won't say anymore because Teren is such a surprising and intriguing character that you should figure out for yourself.
Honestly I can't say too much about this book because there are so many twists that I'm afraid if I say too much I'll reveal all the secrets and turns of the plot. And I really don't want to do that so I will stop here. Overall Marie Lu did a phenomenal job with this book from description, to characters, to plot, to worldbuilding. If you found any of this interesting I suggest you go get the book. Though there was a passionate kiss, and Raphael works at a "pleasure court" but that is about the only thing. Nothing else happens and I don't believe there were any fowl words spoken. If I'm wrong please correct me. I recommend this book for ages 16 and older and I hope you found this review helpful.
Have you read this book? What do you think?